7 things to do and see in County Offaly
A bit like County Roscommon, County Offaly has got a lot of places badly known but worth visiting. If you like nature and rivers, off the beaten track, you definitely won't be disappointed. The County doesn't appear to attract large numbers of tourists, which I think offers a chance to experience an authentic look at life in Ireland.
As you'll be able to see on this page, there are several sites to visit in County Offaly, so if you plan to stay a few days there, here are some examples of what you could see, do or visit.
1. Go to Clonmacnoise…
Clonmacnoise is an early Christian site founded by St. Ciarán in the mid-6th century on the eastern bank of the River Shannon. This site includes the ruins of a cathedral, seven churches, two round towers, three high-crosses and the largest collection of Early Christian graves in Western Europe. The original high crosses and a selection of graveslabs are on display in the visitor centre. Note that former Pope John Paul II visited it in 1979.
2. Visit Charleville Castle…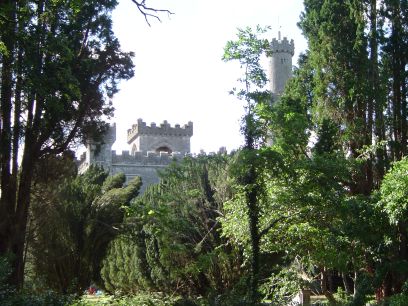 Charleville Castle is located near Tullamore and is now used as a school. It was built between 1798 and 1810. It is possible to visit some rooms of the Castle with a guide but beware there is an entrance fee. Legends say the castle was built on the site of an ancient druid burial ground and that it is haunted by ghosts.
3. Have a stroll in Tullamore's area…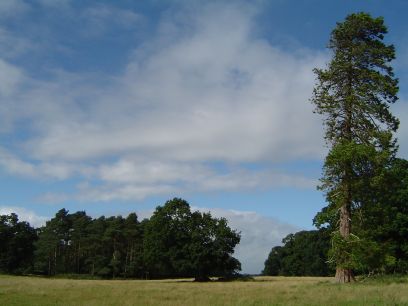 Around the Castle demesne, there are a lot of short walking trails. In April/May each year, you will be able to see a lot of young lambs playing in the fields. I took this photo because I liked the geometry created by the trees in this flat landscape. I guess Pythagoras would have liked this one.
4. Admire the River Shannon in Banagher…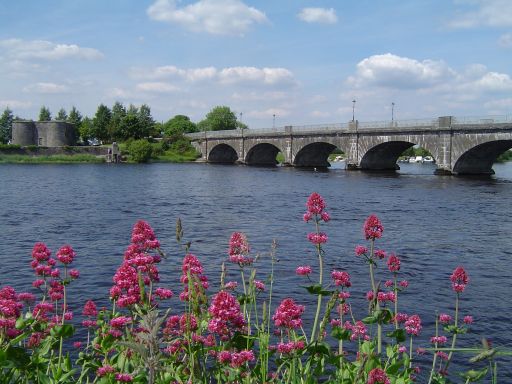 The little town of Banagher sits on the bank of the river Shannon. Banagher has its own marina, and I think it's actually a nice place to picnic on a good day. If you navigate through this website, you'll notice that the River Shannon goes through a lot of Irish counties and is often used as the natural border between two counties. This is the case here. If you cross the bridge, you'll go from Co. Offaly to Co. Galway.
5. Visit the village of Shannonbridge…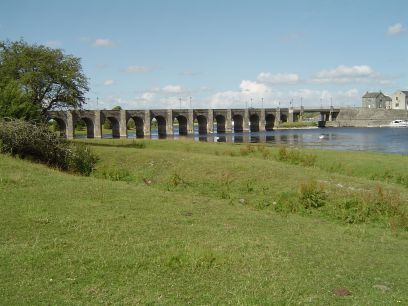 Not far from Banagher, you'll arrive in the little town of Shannonbridge, which is also located on the bank of the River Shannon. Note that apart from its bridge with its 12 arches, dating from 1757, there's very little to see in the village. This time, if you cross the bridge, you'll go from Co. Offaly to Co. Roscommon.
6. Enjoy the view from Croghan Hill…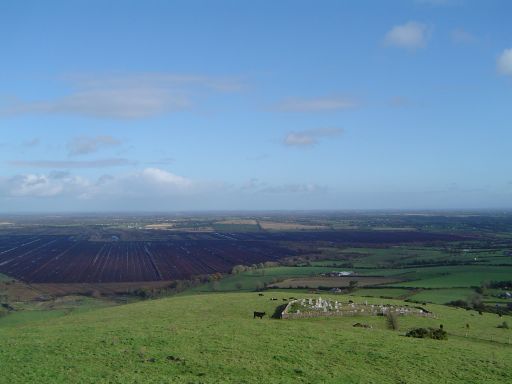 Croghan Hill is what is left of an extinct volcano and is located beside the Bog of Allen. Though only 232 m high, it allows you to get a clear view of the surrounding Midlands counties, which are generally quite flat. I haven't found any direct path to go there, except by crossing fields. I'm not sure if it was the right way to go!
7. Pass by Durrow Village…
The little village of Durrow lies between Tullamore and Kilbeggan (Co. Westmeath). From early Christian times until recently, Durrow has held an important place in the religious and political history of Ireland. In my opinion, there is not much left to see today, except a nice church (pictured).
Did you enjoy this page? Feel free to share it and to check that page. There are still a lot of sites to see in Co. Offaly.