7 things to do and see in County Clare
Like most of the counties of the West of Ireland, Co. Clare has remained quite "wild". Don't worry: there are no werewolves or wicked leprechauns lurking behind the trees. Co. Clare is wild in the sense that except for the main town, Ennis, and a succession of villages, you will only see bare mountains, stones, cliffs and an untamed sea.
There are quite a few places of interest in County Clare. If you plan to stay there a few days, here are 7 examples of sites you can visit…
1. Admire Poulnabrone Dolmen…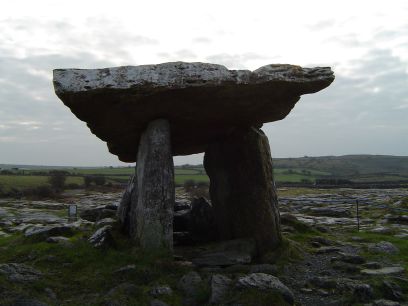 You can freely access the site of Poulnabrone Dolmen, which is lost in the middle of County Clare and not necessarily well-sign-posted. The site dates from the Neolithic period (between 4200 and 2900 BC) and from its location, it is thought that ceremonies and rituals took place during this time. Excavations have actually shown that between 16 and 22 adults and 6 children were buried under the monument.
2. Go through the little town of Doolin…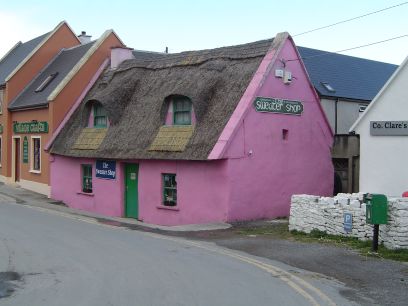 Just change 2 letters and the town could have been the capital of Ireland. Instead of that, you will find a charming village from where you can take a ferry to go to the Aran Islands or navigate at the bottom of the Cliffs of Moher.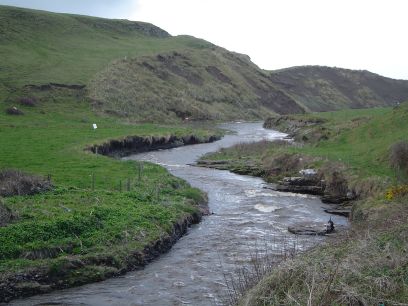 The River Aille (pictured) travels across the Burren area, from Mont Sliabh Elva, through Doolin before reaching the sea.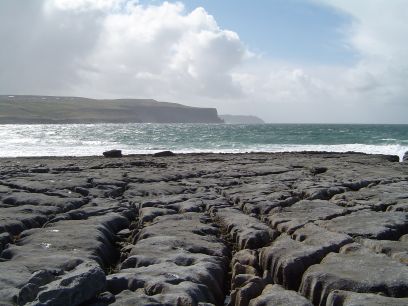 Only a few minutes from Doolin village, you'll arrive at Doolin Point, from where, after a little walk on a fractured rock, you'll also be able to perceive the Cliffs of Moher (see section below).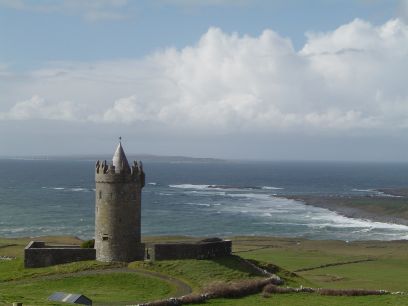 Also close to Doolin, you can see Doonagore Castle, dated from the 16th century. This is a private property and cannot be visited. As compensation you have the view, and that belongs to everyone!
3. Admire the Cliffs of Moher…
The Cliffs of Moher rise between 120 and 214 metres above the Atlantic Ocean and are 8 kilometres long. With Guinness Store House and Dublin Zoo, the site is one of the most valued destinations in Ireland. Of course, this comes with a price! The current rate is around €6/adult and it's free for children under 16. The admission charge includes entry to all public areas of the visitor centre building, entry to all external areas of the visitor zone, admission to the Exhibition "Atlantic Edge" and unlimited vehicle parking. For some it may be an an expensive deal. Indeed, the cliffs originally belonged to a local farmer who gifted his land to the Irish people so that everyone could enjoy this natural beauty for free…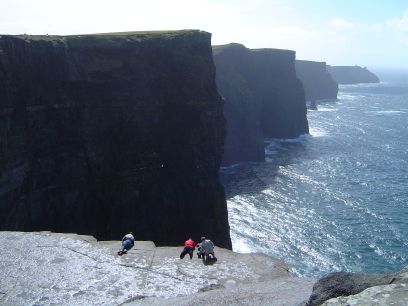 If the weather conditions are great, you'll be able to see the Aran Islands (and likewise you can see the cliffs from the Aran Islands).
4. Surf in Lahinch near Liscannor and Ennistymon…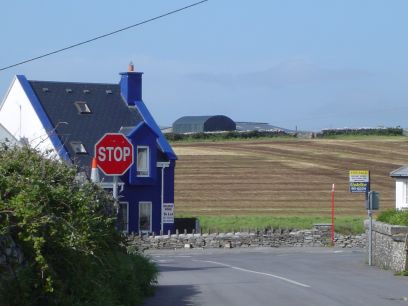 Like every county in the West of Ireland, the coast of Clare is exposed to the Atlantic Ocean and its vagaries. In some parts of the county, this creates ideal conditions for surfers. Lahinch beach is definitely Clare's most famous surfing destination. If you are planning a few days' surfing, Liscannor could be the ideal stop-off. Above, you can see a photo of a blue house taken in Liscannor.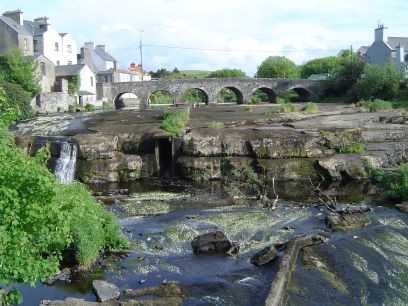 If you're still in the area, I recommend a stop in Ennistymon as well. In my opinion, the main attraction of the town is its waterfalls. In the summer time, the level of the river is low, and you can even walk on its bed. You'll be able to take a totally different photo in autumn or in winter when the currents are stronger… Watch this space!
5. Admire the view from the Burren…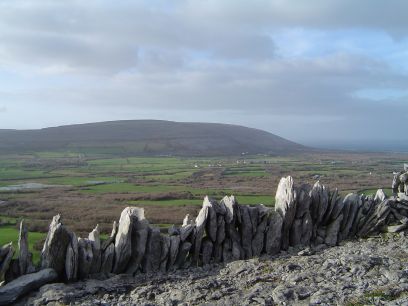 According to Edmund Ludlow, (The Burren) is a country where there is not enough water to drown a man, wood enough to hang one, nor earth enough to bury him… The area has virtually not changed in 300 years! In some places, with special lighting conditions, you'll have a feeling to be in front of a lunar landscape. If you park your car near the Aillwee caves (which can be visited) and start climbing the rock hills above them, you'll find a great spot from which to enjoy the area. You will indeed have a great view in the midst of small stone walls, which are evidence that people lived on this site thousands of years ago.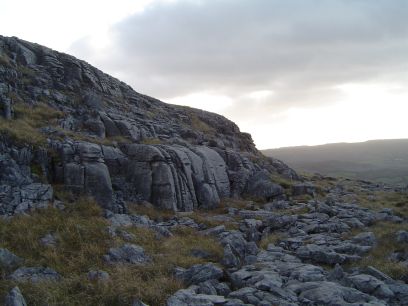 There are several spots where you can have a nice walk in the region (for this, buy a detailed map or hire a guide). When climbing those stones, you will also be able to explore the flora of the area. Some brochures say that there's a particular plant species that grows only in the French Alps and in the Burren.
6. Visit Bunratty Castle…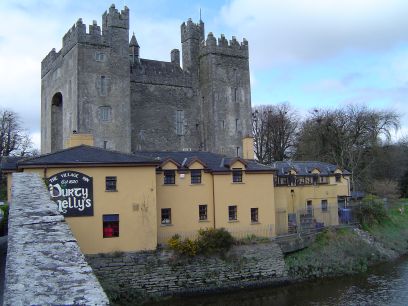 I am not usually a great fan of theme parks (I must be the only Frenchman who's never gone through the gates of Disneyland Paris!), but I must confess that Bunratty Castle and its folk park are really quite interesting. The Castle was built in several stages, and the castle that we see today dates from the 15th century. You can visit the inside of the castle, and on some evenings, you can even enjoy a medieval banquet.
7. Walk through Bunratty Folk Park…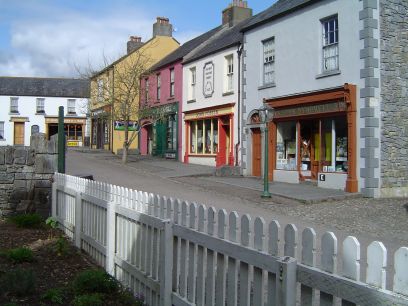 When you leave the castle, you enter a folk park, which is quite pleasant, whether you go there on your own or with your family. You will see old restored thatched houses and even a 19th century street, with a school, shops and of course a pub!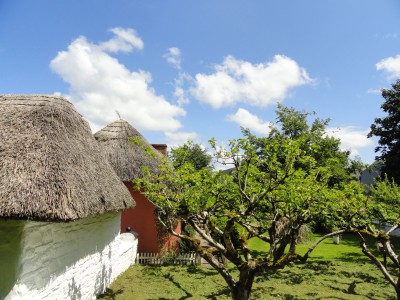 This is all for this week. Next week, we'll discover another County: Laois.